Maintenance MRO /
Spare Parts Storage /
Machinery
we provide you with maintenance, repair and operations inventory management solutions
This market segment has vast opportunities for the implementation of vertical storage devices.  Shuttles® save an abundance of space creating room for value added production floor space.  Let's face it – storing parts does not offer the return of investment that useful production space can generate for a production facility.  Every square foot is expensive and the need to utilize the ceiling space is critical.  Space can be generated and improvements to inventory control, security and picking accuracy is critical to busy production areas.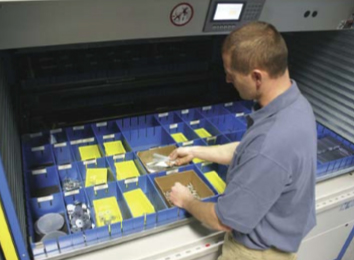 Product applications for
the mro industry
How Our Maintenance Repair and Operating Solutions Help
All our Kardex Remstar systems are designed to store various sized products and can be easily configured to accommodate physical changes of stored goods quickly. Allowing you to keep only what you need on hand, effectively reducing overproduction.
The nature of an automated system is to bring items to the operator, eliminating walk and search time. Batch picking, pick-to-light and inventory management software are just a few keys to eliminating wait time.
Items are delivered to the operator at an ergonomic work height eliminating unnecessary /excess motion such as walking, searching, reaching and bending.
Storing goods in a point-of-use automated solution reduces unnecessary processing and transportation of goods from work cell to work cell and helps eliminate defects.
Multiple levels of integrated "point & click" software helps manage inventory, ensuring you have the right product at the right time at the right place eliminating unnecessary inventory.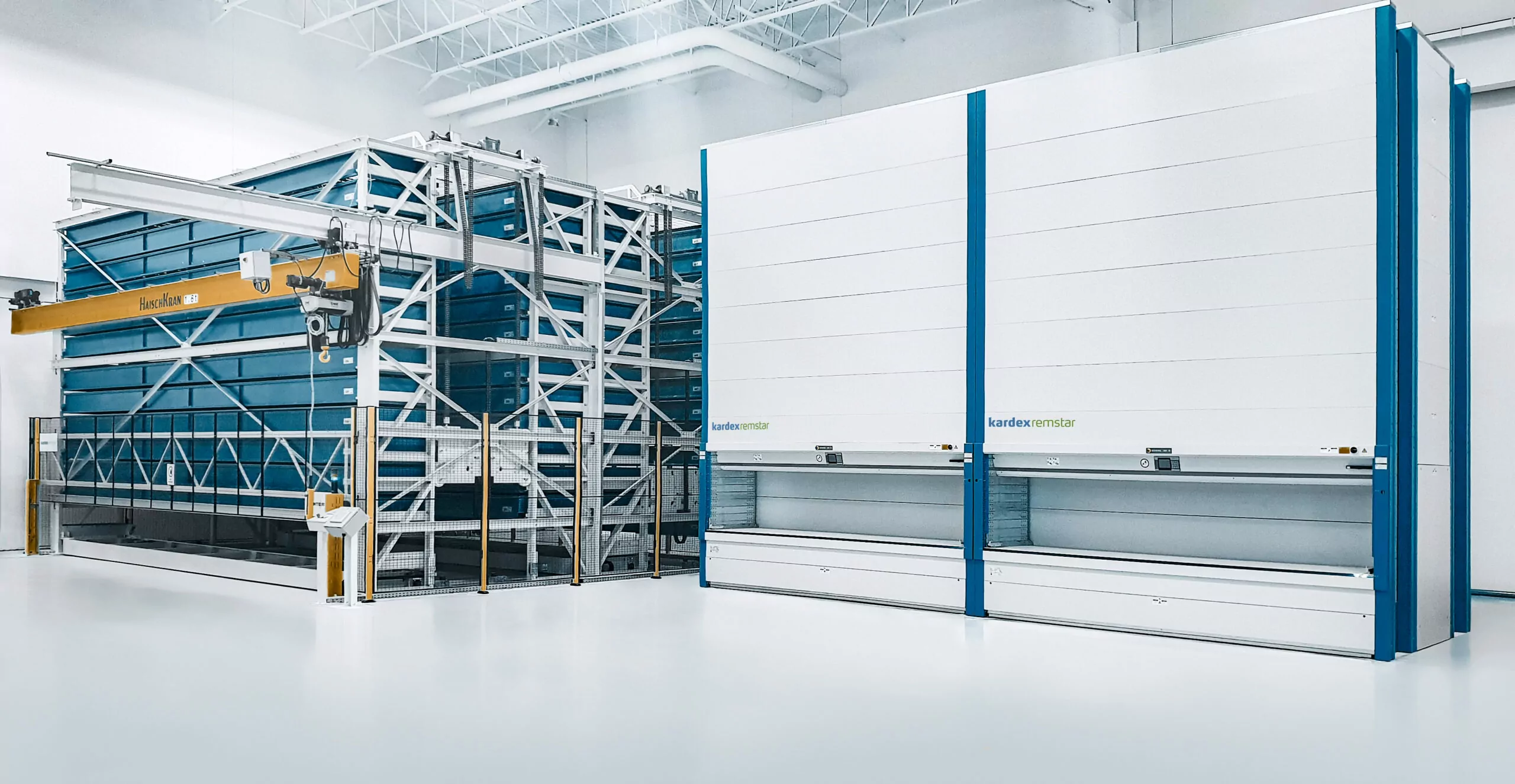 Additional Storage Solutions Offered
When Speed Matters
MRO Inventory
Management is Key
From spare parts distribution to maintenance and repair parts to handling tools, dies and fixtures it's critical to find parts quickly and accurately. Automated storage and retrieval solutions provide increased part accessibility and accuracy, along with accountability and real time stock management.
Convert Wasted Rack & Shelving Space To Valuable Floor Space with Our Space Saving Solutions
Kardex Remstar's Vertical products solutions save up to 85% of otherwise wasted floor space. Both the Kardex Remstar vertical carousel and Shuttle® Vertical Lift Module (VLM) provide dramatic space savings and productivity enhancing features. This wasted floor space can be converted to generate revenue.
SITE
Gurecky Manufacturing
Rosenberg, TX
APPLICATION
Manufactures Precision Parts for Oil & Gas Industry
EQUIPMENT
Two Shuttle® VLMs with Inventory Management Software and Pick-to-Light Technology
SUMMARY
Two Shuttle VLMs Provide 92% Floor Space Savings, 30% Additional Inventory Capacity, a 42% Increase In Productivity and Cut Mispicks In Half
SITE
Bauer Compressors
Norfolk, VA
APPLICATION
Batch Picking Part Orders for On Site Manufacturing & Spare Parts Distribution
EQUIPMENT
3 Shuttle® VLM's and Pick-to-Light with FastPic® Software interfaced with an existing ERP System
SUMMARY
Bauer Compressors Adds Work Cells and Part Numbers Using Less Space
SITE
Mark Andy, Inc.
St. Louis, MO
APPLICATION
Point-of-use storage for manufacturing parts
EQUIPMENT
Three Shuttle® Vertical Lift Modules (VLMs) & Two Horizontal Carousels & FastPic® Software
SUMMARY
Reclaimed 1,600 square feet of floor space for added production and increased parts inventory by over 40% while maintaining current productivity and accuracy levels
SITE
Mazak
Florence, Kentucky
APPLICATION
Parts distribution to end users
EQUIPMENT
13 Shuttle® VLMs grouped in four pick-and-pass
workstations integrated with FastPic® Inventory
Management Software
SUMMARY
Improved productivity by 80% while reducing labor requirements by 44% and increased part numbers by 95%