Warehouse Mezzanines
& Industrial Guardrails
Increase your manufacturing and storage capacity fast with a mezzanine installation
The installation of a warehouse mezzanine will help you increase floor space, boost efficiency and increase productivity without incurring costly renovations or moving to a new facility. Whether you need a little or a lot more floor space, we have the perfect mezzanine solution to fit your application, your timing, and your budget. All our mezzanines are engineered with your business in mind. Intelligently built, the modular components easily adapt to your evolving needs, providing the added value, flexibility, and functionality you need in fast-changing times.
The promise of a stress-free experience is built into every mezzanine system we design. Faster than you ever imagined possible, we can build an industrial-strength mezzanine around the existing layout of your facility, matching its exact height, area, and load requirements. Contact us today and let us help you design and install the perfect mezzanine to fit your space.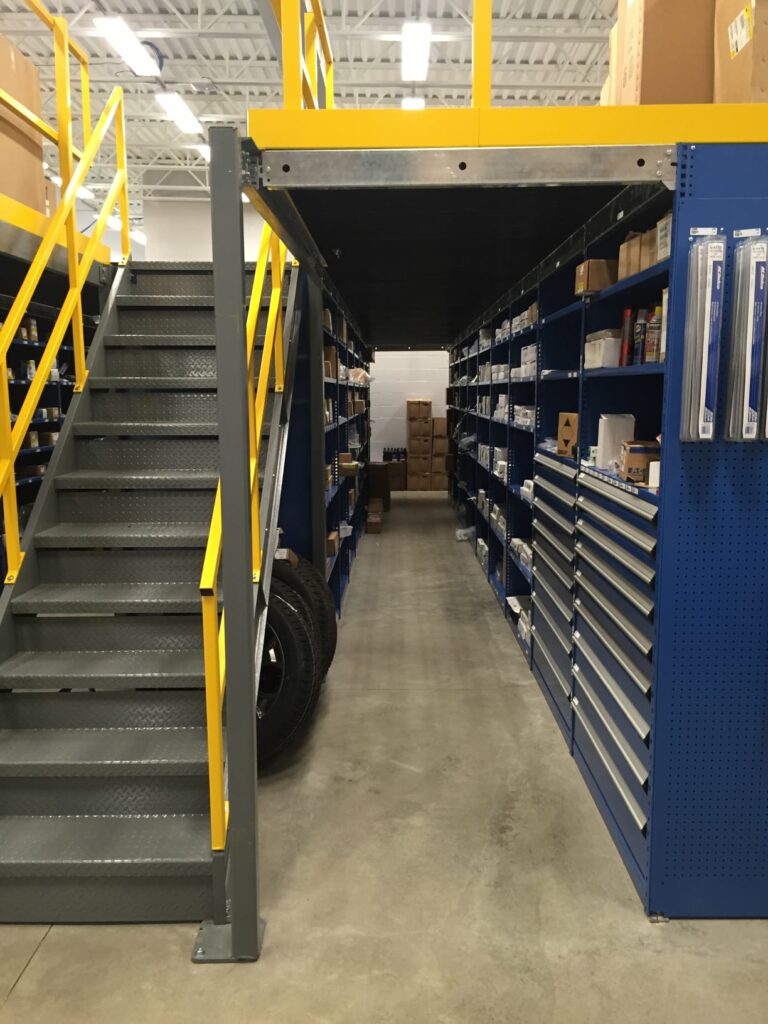 Possible Warehouse Mezzanine Applications
Training Facility Mezzanine
Municipal workers perform vital tasks that keep our cities and towns running smoothly. We install training facility mezzanines to allow you to create to-scale models of real city infrastructures. The controlled environment means thorough simulations can be carried out without any risk of downtime. Run emergency drills, test potential improvements and practice regular maintenance.
Conveyor Support Mezzanine
When high-speed conveyors move over 40,000 packages a day, you need a support structure that won't flinch under pressure. At V&H we help you double your floor space, increase visibility, functionality, and safety for both your workers and your equipment with the installation of our warehouse mezzanines. Convert your unused overhead space into a profitable conveyor support mezzanine.
The installation of a multi-level mezzanine will help you to maximize your cubic area for greater ROI than any other growth alternative. Unlike new construction, which qualifies as a building modification, a warehouse mezzanine is a piece of capital equipment. You benefit from a full-fledged storage platform without the high costs associated with expansion or moving to a new facility.
Industrial Catwalk Mezzanine
Safely access and direct traffic around equipment with the installation of an industrial catwalk mezzanine. Elaborate conveyor and sortation systems can leave a large footprint on your production floor. Built to work around your existing floor plan, catwalks create walkway space above major process areas. Important equipment can be worked on from a solid surface that won't buckle or sway when in use. Warehouse racks, high shelving and attic spaces can also be reached with ease.
Online Distribution Mezzanine
Stock and ship a massive amount of inventory quickly and efficiently. Our warehouse mezzanines are designed for high volume. The addition of a mezzanine can easily double the available workspace in your distribution center. Seamlessly integrate shelving, racking and conveyor systems to move your inventory quickly and efficiently.
Equipment Platform Mezzanine
Boost safety and productivity on your production floor with an equipment platform mezzanine. By adding more convenient access points to critical functions, a mezzanine can boost safety and efficiency on your production floor. Designed to integrate seamlessly with your existing operations, an equipment platform mezzanine provides secure passageways over machinery. Ideal for equipment that must be accessed from above, such as heating and cooling equipment, compressors, and piping or ventilation units.
In-Plant Office Mezzanine
Create a fully integrated in-plant office above your production floor. Create ample room for computer stations, filing cabinets and other office equipment. Your elevated workspace remains in close proximity to relevant operations without compromising production efficiency
Parts Inventory Mezzanine
Install a parts inventory warehouse mezzanine and create plenty of space for shelving units, computer stations and other equipment required for accurate inventory control. Increased square footage also facilitates in-plant traffic circulation and item accessibility. Easy flow patterns through clearly marked inventory bays work to significantly boost speed and reduce pick costs.
Make the most out of your self storage building conversion with a fully-integrated freestanding mezzanine. Designed to fit within the parameters of a predetermined layout, a mezzanine allows an existing building to be transformed into a self-storage facility by adding a second or even third floor. Accommodate more storage units and rent to the maximum number of tenants. The freestanding structure also means the facility can grow and change with the needs of the surrounding community.
INDUSTRIAL GUARDRAILS, SAFETY RAILS AND RACK PROTECTORS
Protect your people and your property from the ground up with Cogan guardrails, safety rails, and rack protectors. Install a guardrail system and stop accidents in their tracks. Simple to assemble, all of our guardrail solutions reduce costly installation charges and interruptions.
You benefit from a safer working environment that protects your people, products, profits – securely and reliably.
Our guardrail safety barriers are the perfect safeguard from machinery, rack-aisle ends, back-of-racking, inventory areas, and loading docks.
They work equally well protecting mezzanines, offices, walls, heating and cooling equipment, electrical panels, and computer control centers. Our guardrail barriers control, define and protect important areas in your warehouse.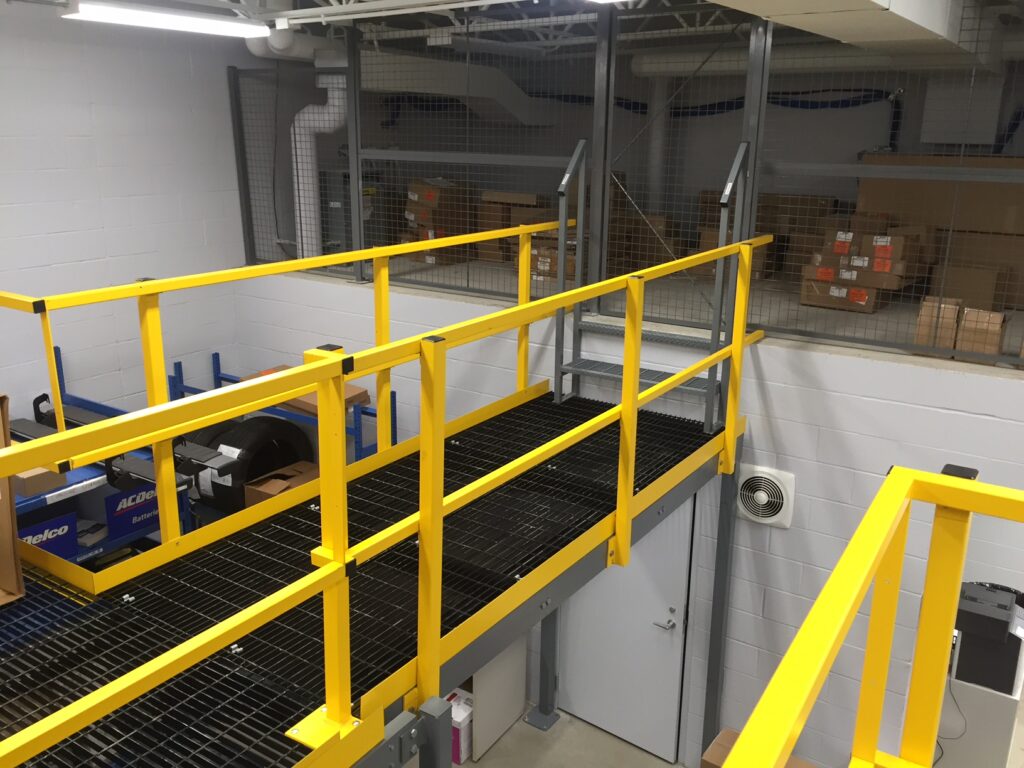 Use heavy-duty guardrails to safeguard conveyor systems, manufacturing equipment, electrical panels, computer stations, staircases and walkways, in-plant offices, first aid and restroom areas, or anywhere else crash protection is required.
Types of Industrial Guardrails Applications
Conveyor Protection Guardrails
Promote a safe and efficient work environment with the installation of a heavy-duty guardrail. Built from the best quality materials, our guardrails are strong, adaptable and when properly installed, engineered to withstand a 10,000-lb impact at 4 mph. Use Cogan heavy-duty guardrails to safeguard machinery, conveyors, and inventory areas.
Spiral Conveyor Guardrails
Designed to direct in-plant traffic circulation, our guardrails define, control and protect important areas in your warehouse. Create an impenetrable wall of steel around your conveyor system. Your machinery will remain shielded from even the toughest forklift collisions.
Equipment Safety Guardrails
Versatile, affordable and extremely durable, our equipment safety guardrail directs the flow of traffic in your warehouse to keep employees and in-plant vehicles away from hazardous or structurally sensitive work areas. Prevent injury, costly repairs, and downtime. Use Cogan guardrail to safeguard machinery, conveyors, rack aisle ends, inventory areas and loading docks.
Electrical Panel Guardrails
Exposed or otherwise compromised electrical wires are not only costly to repair, but can be extremely dangerous for your workers. Install our heavy-duty guardrails and direct in-plant traffic away from hazardous or potentially volatile electrical equipment. The tough-as-nails construction works around the clock to keep your property intact and your workplace safe, productive and profitable.
Warehouse Separation Guardrails
Ideal when you need a sturdy barrier between processes, our guardrails create aisle ways to guide in-plant traffic around secured sections in your warehouse. Divide and organize storage zones and protect manufacturing equipment and work cells from collision damage. You benefit from increased efficiency, enhanced aisle flow, and improved worker safety.