HAI ROBOTICS PROVIDES CUTTING-EDGE ROBOTIC WAREHOUSE AUTOMATION
HAI ROBOTICS is the pioneer and leader in autonomous case-handling robot systems. The company is committed to providing efficient, intelligent, and flexible automation solutions through advanced robotics and AI algorithms, creating value for every warehouse and factory. At V&H, we use products like HAI Robotics to design and install the warehouse solution to meet your needs.
HAI ROBOTICS AUTOMATED WAREHOUSE PICKING PRODUCTS
The HAIPICK A42 is the ACR (autonomous case-handling robot), independently developed by HAI ROBOTICS. It can realize intelligent picking, storage, and simultaneous handling of multiple cases (up to 300kg on a single trip). It has the functions of autonomous navigation, active obstacle avoidance, and autonomous charging.
Key Features of the HAIPICK A42
Multi-case handling – Each robot can store up to 8+1 cases at the same time

Fast & stable – Stable speed is 1.8m/s

Ultra-wide picking range – Covers a broader storage space range from 0.4m to 5.2m

Flexible & customizable – Supports different customization requirements, including height and color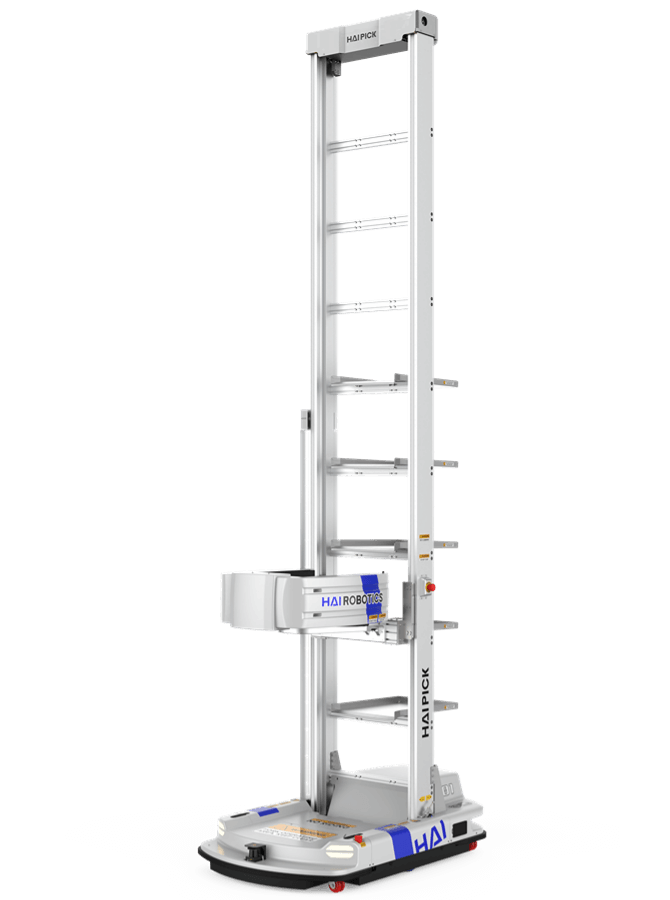 A Telescopic Lift ACR that adopts a telescopic lift function independently developed by HAI ROBOTICS, providing robotic warehouse automation solutions with ultra-high storage density reaching up to 10m high.
Key Features of the HAIPICK A42T
Fast & stable – Stable speed is 1.5m/s

Ultra-wide picking range – Covers a broader storage space range from 0.35m to 10m

Highly flexible body – Can flexibly shuttle through low door openings and low beams
The HAIPICK A3, Fork-Lifting ACR, series is a new generation of lift-type ACR (autonomous case-handling robot) developed by HAI ROBOTICS. It is suitable for various regular-shaped vehicles and is highly suitable for manufacturing SMT line-side scenarios. It is compatible with material specifications and height adjustment, and the docking upper and lower triggers can be infinitely adjusted within the height range of 330~1850mm.
Relying on the HAIQ platform, refined material management, full traceability of the operational capacity in the warehouse, and visualization of efficiency. Achieve information flow, accurate delivery of goods to person, and reduce the amount of stock in the buffer area. Support simultaneous transportation of 4 to 5 vehicles, and the utilization rate of storage space below 4 meters is high.
Key Features of the HAIPICK A3
Ultra-narrow body design

– Body design at 700 mm to save storage space

Multi-layer storage trays

– Meet the needs of multiple production lines

Fast inventory check

– Precise delivery of materials

Hit the target quickly

– Automate goods to person

Safe and reliable

– Six major protective measures + dust-proof and anti-static

Stable operation

– Run 5000 hours POC project without errors

Flexible expansion

– Fast ROI
In the complete Goods to Person solution, HAIPICK robots are dedicated to improving transport efficiency from warehouse to workstation. HAI ROBOTICS also developed HAISTATION, which is used to improve the efficiency of workstations to order cases. HAISTATION is a product portfolio composed of HAIPORT station, conveyor, put wall, buffer wall, workstation, robotic arm, etc. As the backend of the whole warehouse solution, HAISTATION can improve interaction efficiency with frontend robots, improve safety, friendliness, and operation efficiency of interaction between humans and robots, save floor space and improve the flexibility of installation and deployment.
Key Features of the HAISTATION
Safe

– Automatically inbound and outbound. Workers and robots are separated to ensure safety.

Comfortable

– The ergonomics design of the picking workstation delivers convenient operation, high efficiency, and low cost.

Efficient

– Enables more efficient loading and uploading of cases. Significantly increases HAIPICK ACR's efficiency.
HAIPORT-powered Workstation – HAIPORT-powered workstation is an automatic loading and unloading machine. It is composed of HAIPORT, conveyor, visual Kanban, put wall, pick to light system, and can easily dock with HAIPICK ACR to automatically unload, transport, and load cases from the robot's storage tray, optimizing inbound and outbound processes.
On-conveyor Picking Workstation  – The on-conveyor picking workstation automatically conveys the cases unloaded by the HAIPICK robot or the cases that need to be loaded, realizing automated storage and retrieval functions. It offers an ergonomic design; the workers and HAIPICK robots are indirectly connected, and the goods can be sorted on the conveyor line without too much movement.
On-shelving Picking Workstation – The on-shelving picking workstation easily connects to HAIPICK robots to unloading and loading of cases, realizing automated inbound and outbound functions. Its convenient design delivers high efficiency by allowing the HAIPICK robot to unload cases directly to the buffer shelf and go. It does not need to wait for the worker to pick the cases. By doing this, efficiency is increased significantly.
Robotic Arm Workstation  – Robotic Arm Workstation is used to replace manual work in inbound and outbound when picking and transporting loaded or unloaded cases. The robotic arm, instead of manual picking, is integrated with a conveyor workstation or HAIPORT to achieve the work. The conveyor workstation or the automatic loading and unloading machine is connected with HAIPICK robots, automatically transporting the loaded or unloaded cases.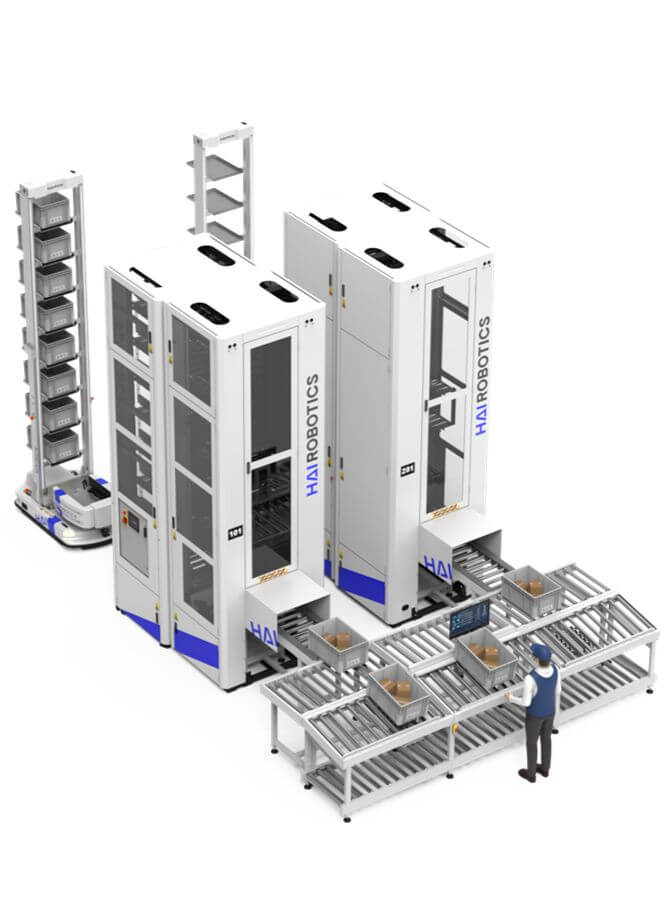 A Variety of Industries Use HAI ROBOTICS for their Robotic Warehouse Automation
Fashion
E-Commerce
3PL
Retail
Healthcare
3C Manufacturing
Automotive
Fashion
Personalized consumer demand means that the number of SKUs is increasing, and the order structure is dispersed and fragmented, making the traditional storage and operation mode no longer suitable. In addition, companies are becoming increasingly sensitive to order fulfillment time, requiring a more flexible, intelligent, and efficient system to realize a fast turnover of goods, improving the responsiveness of the supply chain and reducing the risk of inventory overstocking. HAI Robotics presents a more flexible and efficient logistics solution with a complete process and various scenarios for the fashion industry.
E-Commerce
3PL
Retail
Healthcare
3C Manufacturing
Automotive
See HAI AS/RS Warehouse Robots in Action
V&H Material Handling is dedicated to providing material handling solutions that are innovative and efficient systems for all types of businesses. We will work with you to design and install the best possible warehouse solution to meet your warehouse's needs and help you reduce your business operating costs by implementing solutions that will efficiently and effectively manage your organization's resources (productivity, floor space, inventory, and information). Contact us today to get started!