Administrative High Density Filing Systems
We Offer Many Different Filing Solutions for Administrative Tasks
Managing a growing number of files and records is an overwhelming task.  With files piling up and no room to expand, adding a few more filing cabinets can be out of the question.  V&H Material offers a broad range of automated storage and retrieval systems such as medical filing cabinets, doctors office cabinets and other filing system solutions designed to make your office space work harder.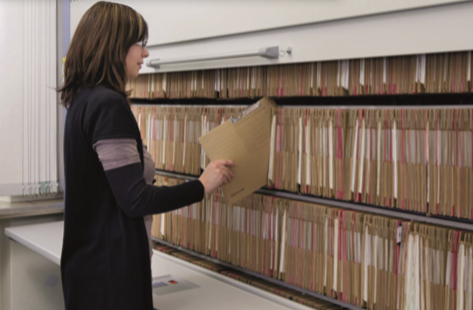 Products For Your High Density Filing System
Benefits of Our Administrative
Storage Solutions
The unit delivers all stored files directly to the operator; eliminating time spent walking and searching through filing cabinets to find a specific file. Less walk and search time allows more time for other value-added activities. The carousel eliminates kneeling, bending and reaching for files. Each file is presented to the operator at a convenient ergonomic height in either a seated or standing position. 
Maximum Storage Performance
Sixteen or more standard 5 drawer filing cabinets can fit into one automated storage unit, recovering between 70 % to 85 % of previously occupied floor space. Each unit can be equipped with pull-out drawers for top tab letter or legal size filing, carriers for side tab letter or legal filing or drawers for storage of media or other goods.
With state and industry specific retention laws, businesses need to carefully consider the creation and management of files. From a digital transaction history to a physical locking door, minimum to maximum security options are available to provide administrators the exact security they require. With Kardex systems, breaches in security are minimized and the possibility of lost files is considerably reduced.
V&H Material Handling LLC is the Authorized Kardex Remstar Distributor throughout Pennsylvania, upstate New York and Delaware. We help reduce your mission's operating costs by implementing material handling solutions that will efficiently and effectively manage your organization's resources (productivity, floor space, inventory, and information). Complimentary site analysis will guide you to the correct solution while factory-certified technicians will install and maintain your equipment 24/7. We utilize high density storage systems which provide several sustainable benefits to an operation. 
Case Studies for Administrative Storage Solutions
SITE
Norwegian Westerdals School of Communication
Oslo, Norway
APPLICATION
Store equipment for the students (especially high-value production equipment for their TV/Film students)
EQUIPMENT
Vertical lift Shuttle XP 250 with two access openings was designed into the building over two floors
SUMMARY
Same amount of goods on only 5% of the floor space giving space for more office places, 100% safety of valuable items due to individual access control, and the design was customized as to be a part of the library and office
SITE
District Hospital
Günzburg
APPLICATION
Replace its existing patient record archiving system
EQUIPMENT
Lektriever by Kardex Remstar, a vertical carousel that is optimally suited for the archiving of frequently accessed files and documents
SUMMARY
Fast, ergonomic and safe access to patient  medical records, extremely space-saving: 44 meters of filing systems can be stored on a footprint of only 2.73 m