Government DOD and Government Administration
Automated & Manual Storage Solutions for Government and DOD
A high level of security and control is common on military bases – and the same goes for the materials stored and managed on base.  From weapons to parachute storage to personnel and medical records, secure storage is a necessity.  Kardex Remstar offers a broad selection of automated storage and retrieval solutions specifically designed for military use; providing secure storage and quick access times in a minimal footprint.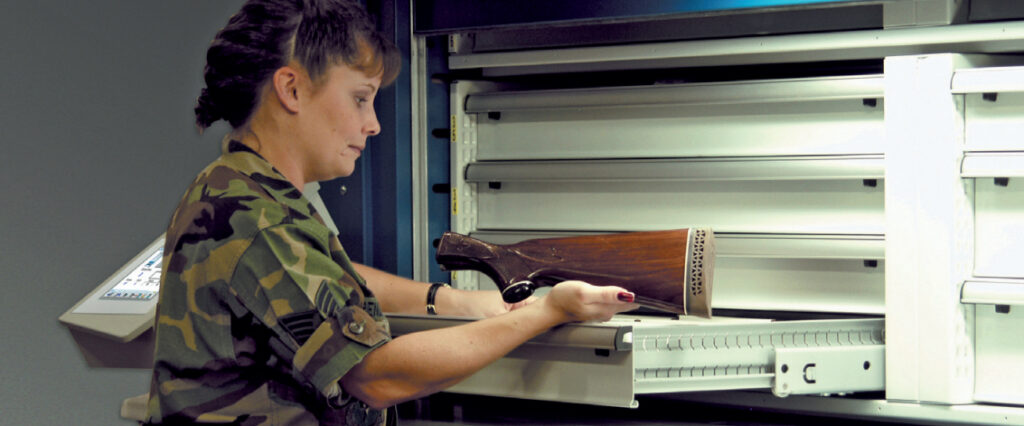 Products For Government and Military Storage Needs
We Offer Secure Government DOD and Military Storage Solutions That Get The Job Done
 It's not only important that documents are securely stored, but that they are quickly accessible to the authorized people that need them. Kardex Remstar systems allow authorized personnel quick access to files and items by either using a key to physically unlock the unit or entering an authorization code.
From digital transaction history to a physical locking door, minimum security to maximum security options are available to provide administrations the exact security they require. With Kardex Remstar systems, breaches in security are minimized and the possibility of lost files or items is considerably reduced.
When access is authorized, the unit delivers the stored item directly to the operator; eliminating time spent walking and searching through rows of cabinets to find a specific file or item. Less walk and search time allows more time for other value added activities.
All Kardex Remstar solutions deliver stored goods directly to the operator at an ergonomic level, eliminating time spent walking, searching, bending and reaching to retrieve stored items, leaving more time for picking. Kardex Remstar products are ergonomically designed to meet the Americans with Disabilities Act (ADA).
Multimedia Office Cabinets, Displays & Filing Systems, Powered Rotary Files (High Density Filing, Record Keeping Equipment). FSC Class: 7403 : Lektriever ELF 115, 120, 125; Megamat Vertical Carousel; Shuttle Vertical Lift Module
Inventory control and higher availability of your spare parts, picking accuracy and inventory security – that is what matters. Kardex Remstar can help you eliminate time otherwise wasted searching for misplaced or out-of-stock inventory. And all this in a highly-densified storage environment.
Every day from Capitol Hill to the state government to local townships, documents are created-presidential documents, court rulings, zoning regulations, public works, city bonds, taxation documents, permits, ordinances and more. Managing a growing number of files and records is an overwhelming task. Kardex Remstar offers a broad range of automated storage and retrieval systems designed to provide secure storage while allowing authorized workers to find the items they need quickly.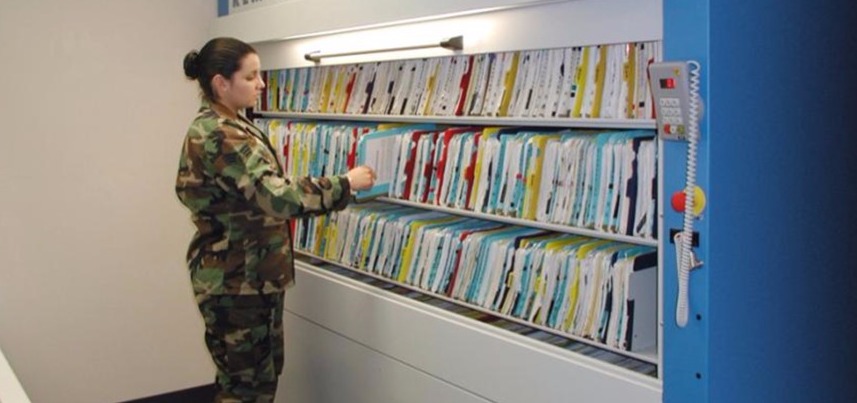 Additional Military Storage Solutions Offered
Mobility Bags Inventoried In Horizontal Carousels For Rapid Deployment
Mobility bag storage that provides high density, better manageability, increased inventory accuracy, and enhanced productivity during peacetime and able to flood the system with man-power for rapid deployment.
Benefits:
Every bag is 100% accessible at all times

Unrestricted air flow helps eliminate damage due to mold, mildew and spore growth

Up to 65% floor space savings

Reduces man-hours up to 33%

100% bag readiness verification

Eliminates walk & search time

Operator is in front at all times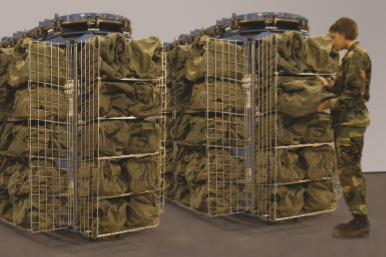 Operations:
Mobility bags may be stored two or three bags per shelf level. Multiple horizontal carousels can be grouped together in a workstation (cluster) for increased productivity. Within the cluster, an additional horizontal carousel unit can be integrated to store potentially missing items such as masks, blankets, kits, supplies, bio-gear, etc. Inventory management software to add functionality such as barcoding, batch picking, security tracking and lockouts, management reports and much more is available.
Case Studies for Healthcare Storage Solutions
SITE
Gun Smith Shop
Lackland AFB
APPLICATION
Improve their inventory management while saving floor space.
EQUIPMENT
Two vertical carousels with 70 roll-out drawers store $2.6 million dollars of inventory, 3,577 SKUs.
SUMMARY
The Results: Saved 86 % floor space, increased security, improved ergonomics, increased productivity