Industrial Workbenches & Service Advisor Desks
1. Industrial Steel Workbenches
With a wide range of accessories available, Rousseau's steel workbenches are a versatile and popular choice. Whether you are installing workbenches for a production or assembly line, or a custom layout for your machine tool workshop, our products meet the highest standards in terms of efficiency and functionality. For an even more ergonomic workspace, you can choose an adjustable workbench that lets you perform tasks both seated and standing up. With an extensive range of accessories, you can arrange the workspace to your liking both above and below the work surface. Whether you need to store equipment in a secure place or keep your parts and tools conveniently on hand, your station can be configured to suit your requirements. With a Rousseau workstation, you are making a long-term investment. Find how our workbenches can evolve in line with your needs.
Key Benefits of Industrial Workbenches
Steel Workbenches for a Variety of Applications include Production/ Assembly, Laboratory, Offices
2. Rousseau's Multitek Cart
MultiTek Cart integrates perfectly with our workbenches. You can place the cart under the work surface with a hideaway door, in a storage cabinet, and next to the workstation. 
Benefits of Having a MultiTek Cart 
Ergonomic, multifunctional and supporting a wide variety of accessories

Small, light and highly maneuverable

Keeps essential items close to hand when working on vehicles

Ideal for transporting tools, original and replacement parts

The roll-out shelf provides an extra work surface

Designed and manufactured by Rousseau in North America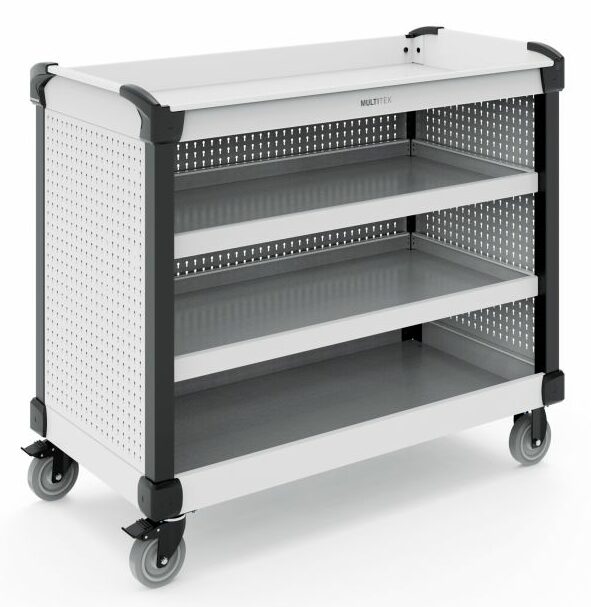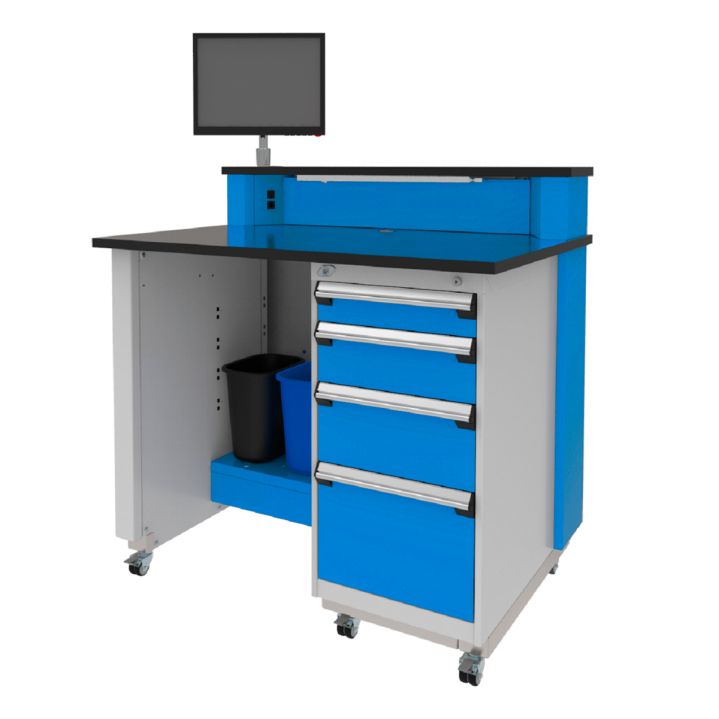 Service advisor desks create a dedicated space for greeting customers. As well as their welcoming and contemporary looks, they have been designed to facilitate all tasks performed by a service advisor. Service advisors have many different requirements, which is why Rousseau offers a wide range of accessories to ensure every desk can have the optimal layout for each advisor. From recycling containers to cable management kits to printer shelves, our accessories ensure that you and your team can carry out your tasks efficiently and safely. Let us help you find the service advisor desk that works with your needs.
Top Features of Service Advisor Desks
Create a dedicated space for greeting customers

Designed to make service advisors' tasks easier and more enjoyable

3 options for choice of top – curved front of the riser shelf and top for a welcoming look

6 widths available: from 30″ to 72″

Multiple desks can be joined together, in a side-by-side or offset configuration

Personalize your desk with your company's logo

Effective cable management: spacious work surface includes a grommet to keep the space clear with no visible cables

Designed, developed and manufactured by Rousseau in North America
Available Service Advisor Desk Accessories
Below the work surface
Desk top
Under the riser shelf
With or without cabinet
Below the work surface
Fixed shelf

Waste and recycling containers

Printer support

Adjustable shelf

Door with lock to secure personal belongings (stationary model only)
Desk top
Under the riser shelf
With or without cabinet
To find out more information call us or submit an inquiry online. V&H Material Handling is here to help you find the right solution based on your needs.