KARDEX VERTICAL LIFT MODULE
Vertical Lift Module (VLM) for High Density Storage
The vertical lift system by Kardex has been designed to meet a broad range of storage and retrieval applications in manufacturing, distribution, retail and warehouse operations. The combination of optimal storage density, flexible, efficient storage strategies, ergonomics and security features makes the Shuttle XP from Kardex a preferred storage solution. Store virtually anything – cost-effectively and with quick access.
Benefits of the New Automated Picking System
The Kardex Vertical Lift Module offers even greater flexibility thanks to various options available pre or post installation. It can be resized, moved and altered to meet changing business, facility and application requirements. The system can be installed in the direct vicinity of a production line in order to increase productivity and reduce floor space requirements. It can connect several floors or be installed outside the building with pass-through access.
How Does the Vertical Lift Module Work?
A vertical lift is an enclosed system of vertically arranged trays that are stored in the front and rear of the unit. There is an extractor located in the center, which automatically delivers trays with the stored items to the access opening at the push of a button or the scan of a bar code. Trays are automatically retrieved and delivered to a pick window for picking. These systems are modular and flexible in design, which enables future adjustments for your business needs.
Increase Your Bottom Line with Integrated Technologies:
Fast and easy integration of barcode scanners for order identification, picking and confirmation.
For quick picking and consolidation of orders, the connection of work zones via conveyor systems is an ideal solution. Items are delivered automatically to the access opening, picked and then placed into shipping containers on the conveyor.
To improve operators' productivity, throughput and accuracy levels, Kardex offers several integrated pick-to-light technologies. The Shuttle XP can be equipped with LED Navigation, position indicators, light pointers and confirmation bars in the access opening.
Manipulation and lifting devices
Easy integration of hoists, cranes, grippers and manipulators for additional ergonomic material handling
Typical Vertical Lift Module Applications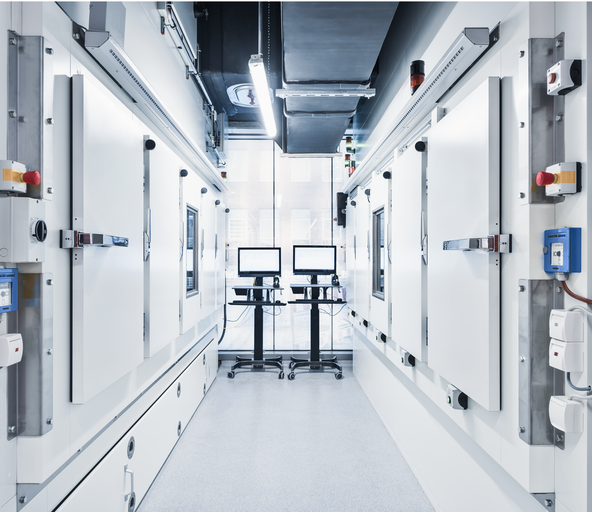 Additional Automated Racking Systems Offered
We also offer Pallet Shuttle Systems, which is a high-density compact storage solution that uses electric motors to automatically carry loads. If you are looking to speed up order picking, ensure a constant flow of products from the warehouse slots to the pick stations, and increase your storage capacity then a pallet shuttle system is the perfect solution.
Benefits of Pallet Shuttle System Installation
How Does a Pallet Shuttle System Work?
The Pallet Shuttle is a compact semi- automatic racking system that uses wi-fi connection and self-powered shuttle carts to move pallets in the rack. This pallet storage solution is ideal for high turnover storage to automatically load and retrieve pallets using a remote-controlled system.
Contact us to Learn More!
Let Us Design a Customized Solution for You
Whatever your automated racking system needs are V&H Material Handling have you covered. We work with you to design and implement the perfect warehouse storage solutions that meet your individual needs. Connect with an experienced member of our team to get started on your next project!