Energy Industry Storage Solutions
We Offer Heavy Duty Storage Cabinets & More for the Energy Industry
The energy market is always evolving. The changes in this industry require precise and accurate inventory control and efficient use of storage space. This market witnesses increased parts inventories to prepare for scheduled shutdowns and emergency repairs while managing constant regulation changes. High density storage organizes the inventory control in this competitive market.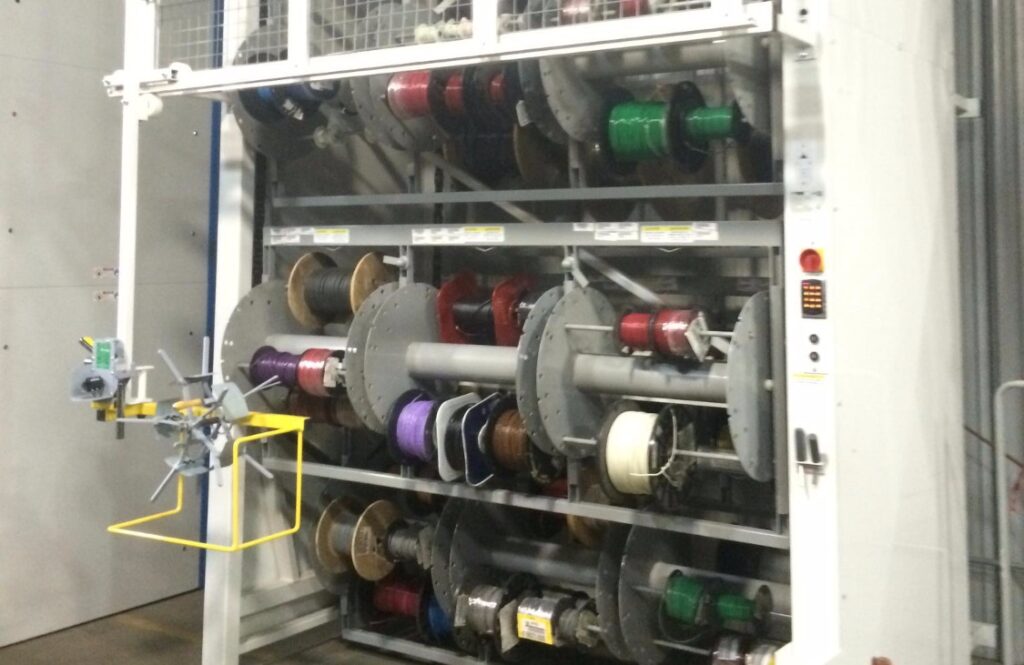 Products to Keep Your Manufacturing and Drilling Operations Flowing
Benefits of Our Oil & Gas
Storage Solutions
Multiple inventory management techniques including batch picking, pick and pass, parallel picking, static or dynamic batching, host-directed batching and many more can be incorporated in order to make your order processing run exactly according to your needs. Our solutions are designed to be modular and can be integrated in stages into any workflow, regardless of its current level of automation.
With the push of a button parts are delivered to the operator for picking and immediate shipment, eliminating time spent walking and searching through shelves. Pick to light technology directs the operator to the exact pick location, increasing accuracy up to 99.9 %. Faster access to parts and higher pick accuracy maximize oil and gas manufacturing and drilling efficiencies.
Kardex Remstar offers a broad selection of automated storage and retrieval systems to keep oil and gas operations flowing smoothly. Our systems provide organized and secure parts storage ensuring maximum part availability.
Driven by an increasing demand to lower prices, oil and gas companies are operating under a strong competitive pressure. Remote locations combined with tight drilling schedules make access to parts a decisive factor in success. From rig manufacturing to drilling productivity: inventory shortages, damaged parts or incorrect shipments can bring drilling operations to a standstill.
We Have the Storage Solutions for Each Sector of Your Mine
We also have specialized solutions for your field of activity and solutions for other sectors in your mine such as:
Assay Lab

Geology Department

Nursing and First Aid Station

Underground Shops and Storage

Camp Kitchen

Laundry Facility
Our network of Storage Specialists can help you find the right solution, contact us today.
Electronic Storage Solution
Case Studies
SITE
Talen Energy Generation
Berwick, PA
APPLICATION
Nuclear Power Generation
EQUIPMENT
10 Shuttle® XP Vertical Lift Modules
SUMMARY
Eight Shuttle XPs inventory warehouse parts, one to store gasket materials and one climate controlled unit to store circuit cards and circuit boards.
SITE
National Oilwell Varco – Rosenberg
Rosenberg, TX
APPLICATION
Manufacture and Service Downhole Drilling Motors for Oil & Gas
EQUIPMENT
Two Shuttle® VLMs with Inventory Management Software and Pick-To-Light Technology
SUMMARY
Two Shuttle Vertical Lift Modules Reduce 82% Floor Space, Increase Productivity by 64% and Improve Inventory Control
SITE
National Oilwell Varco
Houston, TX
APPLICATION
Fulfilling Parts Orders for Manufacturing
EQUIPMENT
Three Shuttle® Vertical Lift Modules with Pick-to-Light Technology
SUMMARY
Picking manufacturing orders 44% faster using less labor while recovering 70% of previously occupied space